Are you considering the idea of installing a pool and because of this, you have been searching for Cypress Texas Pool Builders Near Me? Perhaps you are not fully convinced about the idea of installing a pool and you are looking for the benefits of building a pool. In today's world, over 60% of homes in Texas have pools. So, why do so many people have pools installed? Brought to you by Omega Pools, LLC we are going to highlight the many benefits of building a pool. Along with, where you can find the best pool builders in the Cypress area.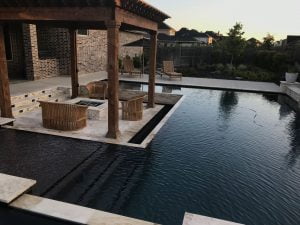 A pool offers endless hours of entertainment in your own backyard. It also increases your home's value, especially in the state of Texas. Research shows that homes with pools in Texas benefit by upwards of 10% added value. And, perhaps most importantly, it allows you to cool off and spend valuable time with your friends and family.
If those benefits are not enough to decide that building a pool is worthwhile. There are also many other advantages of owning a swimming pool that is not as obvious. Here are a few benefits of building a pool that any not have occurred to you.
Benefits of Building a Pool
Are you someone that is worried about the cost of a pool because of the cleaning? When you work with the professionals at Omega Pools, LLC you will benefit from having a pool that stays clean and runs efficiently. They offer the Totally Hayward System which includes the NorthStar pool/spa combination system, Diatomaceous Earth Filters, and the Viio Turbo cleaner to ensure your system is running effectively and always clean. When you purchase these products for your pool, you can enjoy the worry-free warranty included with the equipment. When you have this equipment at the end you do not need to worry about spending money on pool cleaners. Your maintenance will be easy for you to manage. Saving yourself time and money so you can reap the rewards for years to come.
Have you ever noticed how people who live near water seem a lot more laid back than the rest of us? For most people, water is an amazingly effective natural stress reliever. Floating in the water tends to make anxiety and agree to dissolve away. Beautiful surroundings and the soothing sound of water offer the perfect setting for quiet meditation.
Are you struggling to sleep better at night? Perhaps you struggle with insomnia and you are looking for new ways to help with this. Did you know that being in a pool causes physical fatigue in a number of ways? Having physical fatigue every day in turn allows you to fall asleep faster and sleep deeper. Just being in a pool can cause fatigue because the cool water lowers your body temperature. Forcing you to expend energy behind the scenes.
Best Pool Builders in Cypress
If you have decided that installing a pool is a good investment for your home. The next step would be finding the best pool builders in Cypress. There are many pool builders in the Cypress area, but not many of them can compete with the services and products Omega Pools, LLC has to offer customers. Are you looking for a pool building company that values customer service? If so, Omega Pools is here for you. They provide the highest level of customer service to all its' customers. They truly understand that they are working for you designing your dream pool. Because of this, their knowledgeable professionals will be with your every step of the way. Ensuring none of your questions or concerns go unanswered.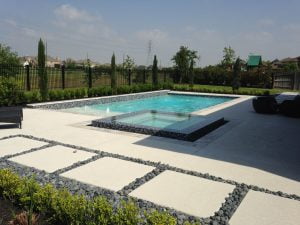 Have you been searching for pool builders that know what they are doing? At Omega Pools, the professionals they employ are truly the best in the industry. They have years of experience designing and construction the most sophisticated pool and spa systems. They are all highly trained and licensed, so you can rest assured knowing your project is in the right hands. It is no secret that Omega Pools, LLC is Houston's fastest growing custom pool builder. They have created a standard of pool construction that no other company can compete with. The Omega Standard is something that will enhance your dream pool and backyard.
Reach out to Omega Pools, LLC
If you are looking for Cypress Texas Pool Builders Near Me, contact Omega Pools, LLC today! They are the expert pool builders that offer free consultations, free estimates, and free designs to ensure you are getting your dream backyard oasis. They are committed to exceeding all your expectations for custom pools and spa, outdoor structures, and remodels. All you need to do is reach out to the experts today by dialing 281-330-6771. Or visit https://omegacustompools.com/ to learn more about the services and products their team has to offer you today!
Contact us today to learn how you can Finance your Custom Pool Build!
Fun Facts About Cypress Texas
Cypress is served by Cypress-Fairbanks Independent School District

. T

he third largest school district in the State of Texas and one of the fastest growing in the United States.

For many years, the area along old Highway 290 known as Cypress was "just a wide spot in the road".

Not only do we have easy access to the Houston Premium Outlets, but Cypress is also filled with almost every retail store you could think of.

Not only does Cypress have multiple natural parks, but almost every neighborhood also provides its own unique, fun park and playground for their community.