Why Katy Pools Residential Builds
Being in Texas is a special kind of heat, special in the worst way. It's not the hottest state, but as we said before, it's a special mix of heat and humidity that makes the cool days hot and the hot days hotter. During the summer months, Katy, Texas, doesn't seem to drop below 90 degrees.
So if you're looking for a sign to get a pool, this is it! Because if you've lived in the area for any length of time, you already have a reason to want a pool. So get something that the whole family can enjoy while staying out in the sun!
Omega Custom Pools has been in the business for over 15 years, delivering on smiles and satisfaction every time. You can be confident in your pool investment when working with us, as you don't need to be a pool-building veteran. And even if you are seasoned in the way of pools, we'd love to hear from you!
Our Team At Omega Custom Pools
We make working with us a splash, giving you exactly what you've envisioned for your custom pool. Our designers work with the latest 3D model technology to show you what your inground pool would look like. We dress it up nicely to fix the layout of your current backyard, so you know just what you're getting.
Our team will be with you every step of the way so you can rest easy. If you have any questions or concerns, always feel free to ask! We build our pools with the best, highest quality of materials and hold ourselves to a premium standard. At Omega Custom Pools, we hand select only the best, highly trained, and licensed professionals for our team.
When our team surveys your yard, we'll work with you in deciding where your pool's placement should be. Along with that deciding where the jet streams, sweeping curves, and random offsets will be placed. Furthermore, with your Katy Pools Residential build, you can let us know if you want any flowing waterfalls or some kind of built-in table.
No matter what additions you'd like us to add, we assure you that we work hard to make sure the finished project is nothing short of breathtaking. Between the variety of choices you have, an example being LED lights or fiber optic lights, we want to create a unique atmosphere around your new pool.
You Should Always Get What You Want!
When you work with us, you'll find that we love what we do and are very proud of our work. You can check out our extensive portfolio and gather ideas for what you're looking for. If you think you're still unsure, you can always check out our reviews! We love it when our clients do the talking, and to date, over 95% of our clients have come to us from past customer referrals.
Our team strives to push ourselves in the service we provide and to hold ourselves to a high standard for you! We have a few different locations for you to check out, but be sure to make an appointment when you're ready to dive into a custom pool project. When you make an appointment, you'll have our full and undivided attention, so give us a call today!
The finished product will guarantee your house is the place to be when the temperature starts rising. Don't let the Texas heat send you back inside when it's a beautiful day. When you give us a call, be sure to ask about our customized spas, a great addition to any pool!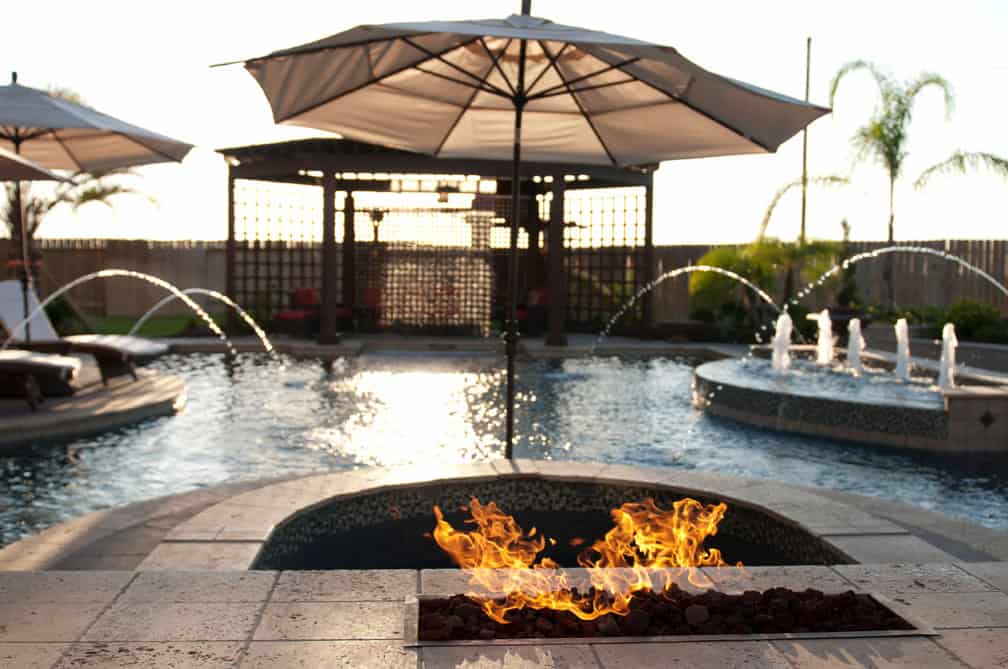 The Process Of Your Pool
Once we hash out the design of your desired pool, we get right to work. Our construction team will begin to break ground on your pool immediately in order to have it finished as soon as possible. You will always stay up-to-date with the progress of your pool and be informed of any changes or delays that occur.
Through our team, you'll be able to stay connected with our talented construction crew. This way, if you find yourself with any questions, they can be answered quickly. There will be no long, drawn-out game of telephone where you go without answers for weeks at a time here!
And while a unique design is always visually appealing, it means nothing if the system that keeps it all together isn't reliable. Don't waste your time with heavy machinery and unreliable regulating systems. With our team backing you up, you can trust that you'll get only the best of systems for your new pool. Omega Custom Pools means pooling done right!
We Can Do More For You!
Omega Custom Pools can do so much more than just custom pool jobs. While our team is great at constructing brand-new pools, we can also remodel pools you already have. You shouldn't have to be strapped into a pool design that came with the house or a design you picked in the 80s!
We can help get your pool up to date with your current style. Moreover, we love collaborating with you to provide the most unique pool designs. Our team is the best place to find all your Katy Pools Residential construction for one-of-a-kind designs. We make the most of any space, making sure that everything has a purpose to your end goal look.
Regardless of what ideas you're thinking of for your pool needs, we want to work with you. We can also work to provide you with the ultimate outdoor space, so the pool won't be the only reason to enjoy the summer! Our team can offer designs and construction for personalized outdoor patios, kitchens, and gazebos to add to your backyard.
We truly want you to unlock the full potential in your outdoor space. Our team can make sure that everything you want flows together in a cohesive way too. So bring your pool and patio needs to us; we know just how to handle them!
These types of additions will help transform your outdoor space into the ultimate dream space, able to cater to any occasion. You'll be endlessly entertained hosting summer pool parties and throwing backyard barbecues. Get in touch with us today to learn more about what services we can provide for you!
We Are The Custom Pool Company You've Been Searching For!
Our team at Omega Custom Pools is passionate about what we do, and we enjoy the bright smiles we see when we finish with a job. When people are able to express their design dreams, we get to work on fantastic and aesthetically pleasing projects that set us apart from the rest.
This is why we offer free design services, so you can see your pool before you commit to a solid layout. This helps everyone involved in the process get a better visual, so everything is perfect! Because you should always be completely satisfied with our service. And our team will continue to go above and beyond for your dream designs.
We are always improving our methods and staying up-to-date on the latest styles and tech that reach the pool industry. When you give us a ring, we'll be sure to give you a free estimate on your custom dream design, so you can get a better idea of what works for you. So give us a call today and check out all the different locations we have.
When you're ready to commit to a pool project, check out Lyon Financial if you need a reputable lender for a pool loan. There are many other accredited pool lenders you can find on our website if you're looking. We look forward to hearing from you, so make sure to check out Omega Custom Pools for all your Katy Pools Residential building needs!