Are you searching for Cypress custom swimming pool construction because you are looking to add paradise in your backyard? Perhaps you are ready to transform pool dreams into reality, but you are not sure where to turn. Omega Pools, LLC can take your pool ideas and transform them into a realistic outdoor paradise. Anything from custom pools, luxury spas, pool remodels, outdoor kitchens and much more, we can design and construct anything.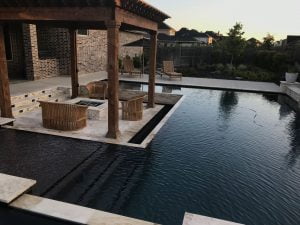 At Omega Pools, we are proud to deliver the best quality custom pools that excel above industry standards. We call it the Omega Standard and our design team will sculpt and design the pool you have always dreamed of. Do you want to have a custom pool with gorgeous waterfalls and vanishing edges? Do you dream of having a pool with lounge space and an outdoor fireplace? Omega Pools, LLC can turn your dreams into reality. We are known for constructing the best custom pools in the Cypress area.
When you trust our design team, you will receive nothing less than a unique and innovative pool and spa construction. We also have the experience and capabilities to renovate your current pool. Choose us to install and design your new swimming pool and we will melt your worries away. Our professionals will work with you every step of the way. Ensuring that no question or concern you may have goes unanswered. We are here to work for you and we will exceed your expectations.
Custom Pool Builders Cypress
At Omega Pools, LLC, our custom pools are built to bring years of enjoyment to you and your family. As well as beauty and value to your home. All of our designs are carefully thought out to utilize and enhance your home and property. During the process of constructing your pool and spa, you will see our commitment to excellence and exceeding your expectations every step of the way.
Our design team works extremely hard to ensure that every pool and spa will enhance your home. Instead of being a distraction that does not fit in with your home's style. Using state-of-the-art technology, our designers are able to show designs with 3D renderings. Which will allow you to see even the smallest detail of your pool and spa construction. Using this method of design allows us to design a total outdoor environment that you can visually see before constructing begins.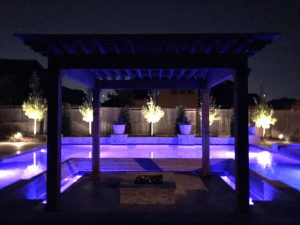 At Omega Pools, we understand that not only do you want a swimming pool that looks great. But that you want a swimming pool that is built to last. Because of this, we do not compromise on our equipment, construction, or installation. At Omega Pools, we offer the Total Hayward System which includes the NorthStar pool/spa combination system. This system is designed to create the ultimate pool experience for your backyard. When you purchase a Totally Hayward System, you will receive total warranty coverage so you can have worry-free pool enjoyment. Ensuring that you have less maintenance to handle and saving you money in the long run.
We provide Cypress with custom swimming pool construction of any shape, size, and depth, with a variety of features. Whether you are looking for diving rocks, waterfalls, water fountains, or grottos, we can build it. From simple pool designs to more elaborate pools, we have the experience to build the pool you have envisioned for your backyard.
Outdoor Living Spaces Cypress
At Omega Pools, LLC we are a group of professionals that are pride in our ability to cater to your unique needs. We also specialize in creating outdoor living environments that are catered to your pool and home. We offer a wide range of services because we believe if you can dream it, we can build it for you. Are you someone that is looking for an outdoor kitchen? If so, we can create a custom-designed, fully equipped outdoor kitchen for you. With an outdoor kitchen, you will love how easy and enjoyable entertaining can be.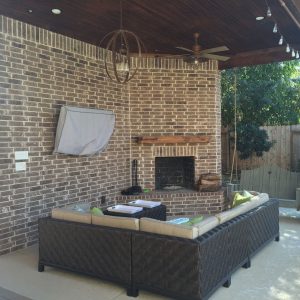 Have you always wanted an outdoor living area in your backyard? Outdoor living rooms offer a sheltered area to relax in the fresh air. They can be equipped with a full entertainment system, awnings, stonework, fireplaces, and so much more. At Omega Pools, we truly have the capabilities to build an outdoor structure that you want. All you have to do is ask and we will take care of the rest!
Reach out to Omega Pools for the Best Custom Pools Today!
When you are looking for the best Cypress Custom Swimming Pool Construction, reach out to the professionals at Omega Pools, LLC today. Contact us today by dialing 281-330-6771 to learn more about how we can help design and build your dream pool and backyard living space. We offer free consultations, free estimates, and free designs. You can also visit our website at https://omegacustompools.com/ to see a full list of services and products we have to offer. We look forward to hearing from you and being able to build you your own personal oasis.
Contact us today to learn how you can Finance your Custom Pool Build!
Fun Facts About Cypress TX
Cypress was considered mostly rural until the 1980's when developers began several master-planned communities.

The Cypress urban cluster ranks 50th in the top 100 highest-income urban areas in the United States.

The extension of the Houston& Texas Central Railroad to Cypress in the 1850s made it an early commercial and transportation center.