Are you searching for pool designs Cypress TX because you are tired of enduring the Texas heat? Are you looking for an outdoor pool that you and your family can enjoy and cool off in? Perhaps you are ready to transform your backyard into the oasis of your dreams? If any of these are the case, Omega Pools, LLC is here to help.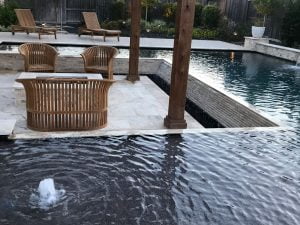 The professionals at Omega Pools, LLC deliver the best in custom pool and spa construction and design in the Cypress area. Watch as they transform your dreams into a reality and bring paradise to your backyard. Omega Pools, LLC is in the business of exceeding expectations and providing an oasis where you can truly relax.
Omega Pools, LLC has experience designing and constructing any type of pool or spa. From traditional Cypress pools to modern designs with slides, fountains, waterfalls, and rock structures, they have done it all. Bring you and your family endless hours of fun and enjoyment when you partner with Omega Pools, LLC.
Outdoor Pool Designs Cypress TX
Omega Pools, LLC can also elevate your backyard with customized outdoor structures. Whether you are looking to add an outdoor kitchen, or a covered patio to relax after the pool, Omega Pools, LLC has the capability of constructing the structure of your dreams. Cypress landscaping and custom pool builders make sure you enjoy your custom pool and new landscaping.
Our landscaping and custom pool builders can also assist with remodeling existing pool structures. Omega Pools, LLC works with you to design an outdoor structure that will enhance your current pool and spa structure. Furthermore, our expert pool designers carefully think out every pool and outdoor design to utilize and enhance your space.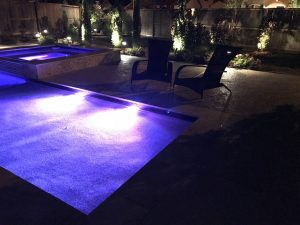 Don't worry about paying for an estimate from a company. Omega Pools, LLC offers free designs, consultations, and estimates to fit your needs! Therefore you through every step of the designing and construction process.
Outdoor Pool Products Cypress
Omega Pools, LLC only offers the best outdoor pool products to keep your pool running. Most importantly, we understand how important quality equipment is for the longevity of your pool. All customers are given the Totally Hayward System which includes the NorthStar pool/spa combination system, Diatomaceous Earth Filters, and the Viio Turbo cleaner. This system operates by combining innovative technology and quality products to ensure your pool is always running effectively and efficiently.
It is a known fact that nothing makes the water more vibrant than light and color. Omega Pools, LLC offers the best color and lighting for your pool structure. Our ColorLogic4.0 system starts with 5 colors that can be enhanced with 7 color-changing shows. Ask us about your lighting and coloring needs.
Contact the Best Pool Designs in Cypress
Contact us to learn how you can Finance your Custom Pool Build!
Start benefiting from having a pool in your backyard by reaching out to Omega Pools, LLC today! We have many years of experience designing and installing the best pools and spas in the Cypress area. Reach out to one of our friendly specialists by dialing (281) 330-6771 or schedule your consultation online. If you are searching "pool designs Cypress TX," then get in touch with Omega Pools, LLC today!