When it comes to custom pools and spas, residents only trust the company with the best Cinco Ranch TX Swimming Pool Designers, Omega Pool, LLC. The number one family activity in the summer is swimming, so why not relax in the pool in your backyard?  We offer the best cool-down experience by providing our Cinco Ranch residents a stylish pool or spa at an affordable cost. As a result, Your home will the entertainment home as family and friends escape the southern heatwaves in your luxurious pool or spa. Are you ready for your new water experience in paradise?
Cinco Ranch TX Swimming Pool Design
Omega Pools, LLC, is the fastest-growing company in the industry. Bobby Firouz and Gustavo Curiel, the two founders of the company, handpicked their team of experienced and certified designers, construction supervisors, and construction and landscaping teams to provide the best outcome of each project. Whether our clients desire a traditional pool, a modern pool, or a mini water park with slides and waterfalls, we can make your backyard dreams become a reality. Because of this, our unique designs yield multiple referrals from our satisfied existing customers. Our projects become the topic of conversation at every backyard barbeque or summer pool party.  As a result, we tend to create long-lasting relationships between the residents of Cinco Ranch and Omega Pools, LLC.
Why Should You Choose Omega Pools, LLC
Our primary goal is to provide professionalism and originality to every client. We strive for synergy, symmetry, and harmony throughout the process of each project. With our company's standards set, our designers draft a 3D Model to make sure our clients understand the projected plans. Next, our construction supervisors become the liaison between the client and the construction team. They will communicate the progress of the project as well as inform you of any arising problems and provide solutions accordingly. Finally, our teams only use the best system for your pool or spa; the Total  Hayward System, which includes the NorthStar pool/spa combination system, Diatomaceous Earth Filters, and the Visio Turbo cleaner. Utilizing great supplies and products as well as handpicking the best team possible, we are confident that our work will speak volumes among the Cinco Ranch Community!!!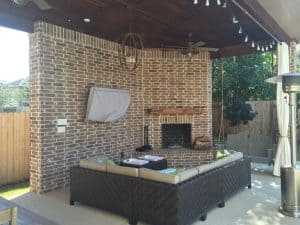 We Are Not Just Pools and Spas
In addition to redefining the standards of the industry with our custom pools and spas, Omega Pools, LLC can design and construct add-ons such as outdoor kitchens, beautiful patios, and breathtaking gazebos. These add-ons will complement your custom pool or spa and make your backyard the one everyone envies. Your home will become the perfect place to entertain guests. So, whether it's just a pool or a complete backyard makeover, we are the company that can do it all!!!
The History Cinco Ranch
The history of Cinco Ranch, TX, began in the early 1820s. Stephen F Austin, son of Moses Austin,  gained grants from the Mexican government in 1821. He then colonized Fort Bend, and each of the 300 families received a minimum of 4000-acres of land. Later, Bassett Blakeley sold his working ranch, which then was known as today's Katy area, to William Wheless. Wheless encouraged five of his friends, J.S. Abercrombie, W.B. Pryon, H.G Nelms, and L.M. Josey, to join the venture. Together, they named the business Cinco Ranch (Cinco means5 in Spanish and is called about the five families owning the new ranch). Although the land was a cattle ranch that produced many crops, they used the area as a retreat for family events and special events.
Cinco Ranch Today
Cinco Ranch, TX  today, is a community with over 18,000 residents.  In February 1984, the neighborhood was purchased by Cinco Ranch Venture for a 5,000-acre master-planned development and became the largest raw land transaction in the history of Houston. The first home was sold in 1991 and now has over 11,500 completed homes. This 7,600-acre community is 25 miles from Houston, TX: the most diverse city in the United States. Because of this, it is one of the highest-selling communities in the state of Texas. Cinco Ranch, TX consist of 13 tennis courts, a golf course, a Lake House as an event center, and a 37-acre Spring Lake House with a walking trail (One lap around the tail is 1.87 miles).  The young residents attend one of the eight zoned schools within the Katy Independent School District.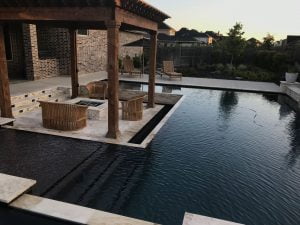 Water Safety
Swimming is almost a mandatory activity during the warmer months. Although we want to provide the best product and the best customer service, we also want our clients to be safe while enjoying the new addition to their homes. As a result, water safety is an imperative protocol when enjoying the pool or the spa. The American Red Cross provides CPR Certifications and other classes, which we recommend at least one adult attend. The classes are affordable and equip the students with the tools needed in case of an emergency. These classes can save your family from a tragic event and loss of a family member or a friend. Also, we recommend adult supervision when a child or children are enjoying water activities. Finally, we strongly encourage everyone NEVER to swim alone.
Are You Ready For Your Pool?
Omega Pools, LLC  offers free consultations, free estimates, and free designing to embody our clients' ideas and suggestions fully. Also, We work hard to deliver what our clients dream about for their pool or spa experience. Whether you are investing in a backyard pool for the first time or if you are remodeling an old pool, we are the team you want in your backyard. Also, we take pride in receiving ninety-five percent of our clients from a new recommendation from existing customers. This proves that our formula of unique designs and professionalism is working and benefiting our customers. Enjoy barbeques and pool parties this summer in the comfort of your backyard.  Clients can call us for a quote at (281) 330-6771 or can visit us here. Omega Pools, LLC is the go-to company for Cinco Ranch TX Swimming Pool Designers!!!