Custom Pools Cinco Ranch TX
Have you been searching for Custom Pools Cinco Ranch TX because you are tired of having to go to the neighborhood pool? Perhaps you are thinking about installing a custom pool because you think it will benefit your children greatly. Maybe you are tired of your kids spending too much time indoors and you want them to be outside more often. Whatever the case may be, Omega Pools, LLC is here to help you.
Often, homeowners consider installing a pool for their children but are on the fence about it because they do not realize the added benefits a swimming pool provides children. Brought to you by Omega Pools, we are going to highlight the benefits swimming pools provide kids. So you can decide whether or not a custom pool is a good investment for your family.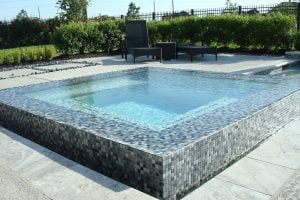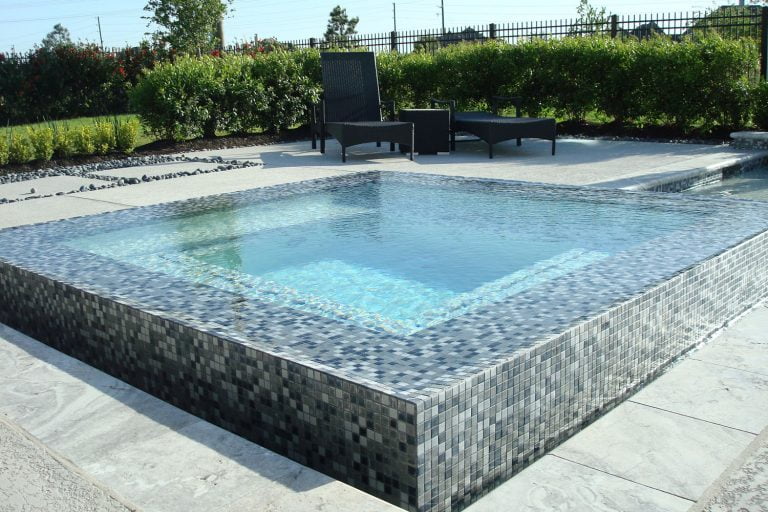 Omega Pools, LLC has the capability of building paradise in your backyard. If you have always dreamed of having an oasis the professionals at Omega Pools can help you. For years they have been known for designing and construction the best custom pools in the Cinco Ranch area. Are you looking for a traditional pool? Perhaps you are looking for a pool and spa that is complete with slides, water features, vanishing edges, and much more. Whatever you are dreaming of, Omega Pools has the capabilities to compete it. They will help you build your dream backyard bringing endless hours of entertainment and fun for your family.
Benefits of Custom Pools
Did you know that a swimming pool is not only fun for kids but can provide some important benefits? Swimming pools are a great way to teach kids how to swim and be safe around water. Children who have swimming pools in their homes have been shown to have stronger swimming skills. Which allows them to be safer in the water and provide you with greater peace of mind. Do you have a child that spends too much time inside playing video games or watching TV? If so, swimming is a great form of exercise for children to get outside. As a result, it will keep your child outdoors more, active, and enjoying the fresh air.
Bringing the Family Together
Do you and your family struggle to find things to do as a family? Perhaps you are noticing that you are not spending as much time together as you would like. Sometimes it is hard with today's busy lifestyles and schedule to find time to spend as a family. Because of this, having a pool right in your backyard gives a fun place the whole family can enjoy. Is your child struggling to make friends? Maybe you are noticing that they are lacking the social skills they need to keep friends. It is important for kids to learn valuable social skills. Overall, pools are a great place for kids to hang out together, play games, and interact.
Are you tired of trying to find venues to have your kid's birthday party at? A swimming pool provides the perfect spot for any party. That kids and adults will both be able to enjoy for years to come. Therefore, swimming pools can bring people together and create memories that will last a lifetime. If you are considering installing a custom pool, now is a great time. The professionals at Omega Pools, LLC are ready to help you get swimming in quality and style.
Best Custom Pool Builders Cinco Ranch
If you have decided that installing a custom pool is a good investment for your family. You are probably wondering who is the best that can help you. The expert professionals at Omega Pools, LLC are ready to transform your backyard into a paradise for you and your family. At Omega Pools, they specialize in unique and innovative pool and spa construction that anyone will enjoy. All of their designs are carefully thought out to enhance your backyard.
Their number one goal is to exceed your expectations. And they are able to do this with the knowledgeable and experienced designers they employ. The designers will be with you every step of the way to answer all questions and concerns that you may have. And every single team members is highly training and licensed to provide the highest standard of customer service.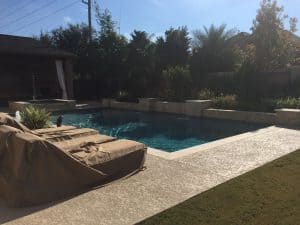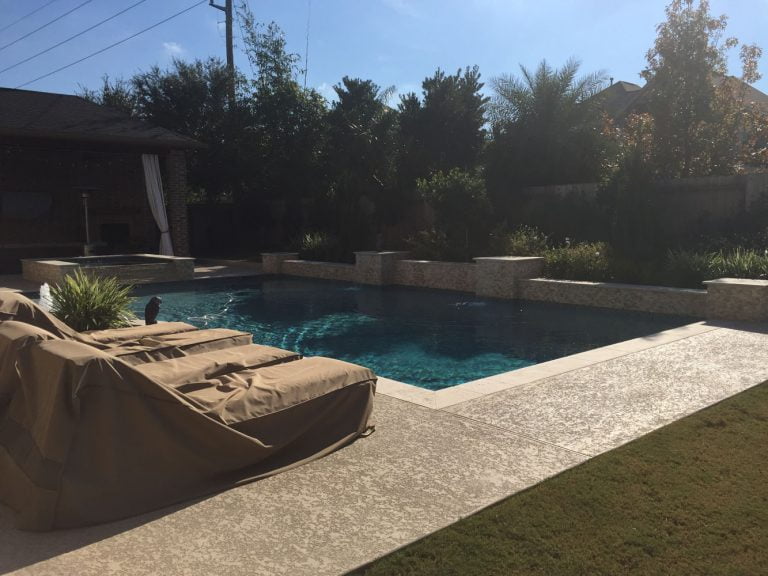 Are you looking for not only a custom pool and spa, but an outdoor structure as well? Perhaps you are looking for an outdoor kitchen as well. Maybe you are looking for an area where you can lounge peacefully. The experts at Omega Pools, LLC has the experience in building spectacular outdoor structures. From an outdoor kitchen to gazebos they have done it all. They will be able to construct an outstanding structure that will complement and enhance your custom pool and home.
Reach out to Omega Pools, LLC today!
If you have decided that you are in need of Custom Pools Cinco Ranch TX, it is time to contact the professionals at Omega Pools, LLC today. Their friendly specialists are standing by to answer any of your questions and to schedule your free estimate today. Omega Pools offers all their customers free estimates, free designs, and free consultations. This is the time to install a custom pool all you need to do is dial 281-330-6771 to get started on your custom pool journey. You can also visit https://omegacustompools.com/ to see a full list of services and products they have to offer you.
Contact us today to learn how you can Finance your Custom Pool Build!
Fun Facts About Cinco Ranch TX
Cinco Ranch has a growing network of greenbelt trails, making it possible to jog, bike or rollerblade between almost anywhere in Cinco Ranch.

There is also the Bayou Nature Trail, extending nearly four miles and preserving almost 70 acres of woodland and wetland habitat.

Plans are currently underway to connect the Bayou Nature Trail to the Buffalo Bayou Hike And Bike Trail.