A custom pool built by the most referred Bridgeland, Tx Pool Builders, Omega Pools, LLC, is the perfect addition to any home. What better activity to do to cool down in the pool or relax in the spa? We offer the most stylish custom pools or spas at the most affordable rate.  We also provide customer service that is incomparable to any of our competitors. Enjoy a relaxing swim all in the comfort of your backyard. Are you ready for your piece of paradise?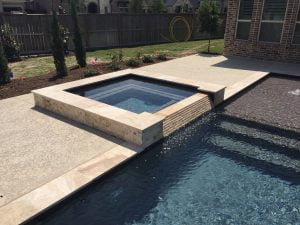 About Bridgeland, TX Pool Builders
Omega Pools, LLC, is the fastest-growing company in the industry. Bobby Firouz and Gustavo Curiel, the two founders of the company, handpicked their team of experienced and certified designers, construction supervisors, and construction and landscaping teams to provide the best outcome of each project. Whether our clients desire a traditional pool, a modern pool, or a mini water park with slides and waterfalls, we can make your backyard dreams become a reality. Because of this, our unique designs yield multiple referrals from our satisfied existing customers. Our projects become the topic of conversation at every backyard barbeque or summer pool party.  As a result, we tend to create long-lasting relationships between the residents of Bridgeland and Omega Pools, LLC.
Why Should You Choose Omega Pools, LLC
Our primary goal is to provide professionalism and originality to every client. We strive for synergy, symmetry, and harmony throughout the process of each project. With our company's standards set, our designers draft a 3D Model to make sure our clients understand the projected plans. Next, our construction supervisors become the liaison between the client and the construction team. They will communicate the progress of the project as well as inform you of any arising problems and provide solutions accordingly. Finally, our teams only use the best system for your pool or spa; the Total  Hayward System, which includes the NorthStar pool/spa combination system, Diatomaceous Earth Filters, and the Visio Turbo cleaner. Utilizing high supplies and products as well as handpicking the best team possible, we are confident that our work will speak volumes among the Bridgeland Community!!!

We Are Not Just Pools and Spas
Also, Omega Pools, LLC can design and construct add-ons such as outdoor kitchens, beautiful patios, and breathtaking gazebos. It will complement your custom pool or spa and make your backyard the one everyone envies. The add-ons are perfect for the master grillers and the people who enjoy their time with families and friends. Your home will become the ideal place to entertain guests. So, whether it's just a pool or a complete backyard makeover, we are the company that can do it all!!!
About Bridgeland
Bridgeland is an 11-year-old master-planned community in Cypress, TX. It is 11,400 acres and is continuously growing.  This beautiful community has 3000 acres of lakes and parks with interconnecting trails. Bridgeland is 40 minutes from the fourth largest city in the United States: Houston, TX. The children residents attend exemplary schools within three of the best districts in Texas: Cypress-Fairbanks Independent School District, Omega Independent School District, and Waller Independent School District. The developers are planning to build a 900-acre town center where residents can enjoy shopping, fine dining,  and other amenities. The community amenities include heated pools, splash pads, dog parks, a hammock park, a zip line playground, a boathouse, and a community treehouse. The residents can check out a kayak to use their own on the lake. Nevertheless, there are plenty of activities for every age!!!
Water Safety
Swimming is almost a mandatory activity during the warmer months. Although we want to provide the best product and the best customer service, we also want our clients to be safe while enjoying the new addition to their homes. As a result, water safety is an imperative protocol when enjoying the pool or the spa. The American Red Cross provides CPR Certifications and other classes, which we recommend at least one adult attend. The types are affordable and equip the students with the tools needed in case of an emergency. These classes can save your family from a tragic event and loss of a family member or a friend. Also, we recommend adult supervision when a child or children are enjoying water activities. Finally, we strongly encourage everyone never to swim alone.

Are You Ready For Your Pool?
Omega Pools, LLC  offers free consultations, free estimates, and free designing to manifest our clients' ideas and suggestions confidently. Moreover, we work hard to deliver what our clients dream about for their pool or spa experience. Whether you are investing in a backyard pool for the first time or if you are remodeling an old pool, we are the team you want in your backyard. Also, we take pride in receiving ninety-five percent of our clients from a new recommendation from existing customers. Our method proves that our formula of unique designs and professionalism is working and benefiting our customers. Enjoy barbeques and pool parties this summer in the comfort of your backyard.  Clients can call us for a quote at (281) 330- 6771 or can visit us here. Omega Pools, LLC is your Bridgeland Pool Builders!!!