Have you been dreaming of having a pool and spa in your backyard? Perhaps you are looking to transform your backyard into paradise, but you do not know where to turn. Maybe you are tired of the Texas heat and you have been searching for Bridgeland TX Pool Designs. If this sounds like you, Omega Pools, LLC is here to provide the solutions to the challenges you have been facing. They are the pool design experts that can transform your pool dreams into reality.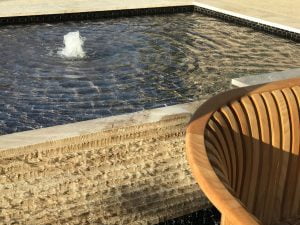 Are you looking for a traditional pool that you can cool off in? Perhaps you are looking for a pool design that includes a spa, fountains, waterfalls, and beautiful rock structures. Whatever the case may be, Omega Pools, LLC has the knowledge, experience, and capability to design any type of pool structure that you want. They have a professional design team that is here to listen to your needs and wants. Because of this, they will help you build the paradise of your dreams that will bring you the entertainment and fun you have been looking for.
Omega Pools, LLC stands out from its competitors for many reasons. But they are a company that is known for construction pools at the highest standards, the Omega Pool Standard. Which other pool design companies do not have. Omega Pools, LLC takes great pride in meeting and exceeding your expectations. Because of this, they truly are the best in custom pool design and construction.
Pool Design Products
OmegaPools founders, Bobby Firouz and Gustavo Curiel built Omega Pools to define the standards in pool and spa construction. Because of this, they only offer the best innovative and quality pool products. Ensuring that your pool and spa is running efficiently all year long. Have you heard of the Totally Hayward System? If not, you are not alone. Many people do not know of this technology until they are designing a pool. The Totally Hayward System is the technology you are needing to ensure any pools is running efficiently. The Hayward system was designed to create the ultimate pool experience for your backyard.
When you purchase the Totally Hayward System, you will receive total warranty coverage. Not only that, but the Hayward system is designed to be compatible with a wide range of other equipment. So, if you have an existing system, the Hayward system can easily retrofit to an existing system.
Are you looking for a pool system that can keep you warm during the winter months? If so, the Totally Hayward System also offers a world-class heater known as the Universal H-Series heater. This heater has an 84 percent industry-leading thermal efficiency. This heater is the perfect choice for anyone that is looking for a system to keep their pool warm all year long. Are you wishing that you can control your pool with the simple touch of a button? If so, Omega Pools, LLC has the solution you are looking for. They offer the Pro Logic Total Pool Management system which will give you the capability to control your pool and spa water temperature, lighting, pH, filtering, and much more. This elite system is the solution to complete pool automation.
Best Pool Designers Bridgeland TX
Are you wanting to see your pool design come to life before committing to one design? Perhaps you have worked will pool designers in the past and they were not able to give you the visual display you needed. At Omega Pools, LLC their designers work with state of the art technology to draft 3D models of our pools. So you have the ability to see what your pool will look like before construction begins. They are a company that understands being able to see something that is more important than just talking about it.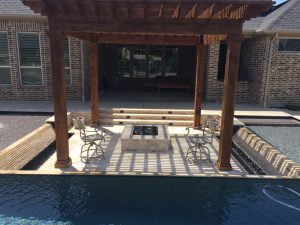 Because of this, the individuals at Omega Pools are extremely proud of the work they have delivered. They have an impressive portfolio that speaks for itself. Did you know that over 95% of their clients are referrals from past clients that saw the Omega Standard? If you are ready to have the most professional, licensed, and experienced pool designers on your side, Omega Pools, LLC is here for you.
Contact The Professionals at Omega Pools, LLC Today!
It does not matter if this is your first time building a pool or your fifth time building a pool. The professionals at Omega Pools, LLC have the best Bridgeland TX Pool Designs that you will be able to find in the Bridgeland area. They are here to deliver the pool and spa of your dreams. They employ only the best professionals that have the knowledge to ensure your pool is being built right. They will be with you every step of the way answering any questions that you may have.
When you employ the expert pool designers of Omega Pools you will feel comfortable knowing your pool is being built at the highest standard possible. See for yourself what the Omega difference can do for your backyard. Learn more about Omega Pools by visiting us here or you can reach out to their friendly specialists today by dialing 281-330-6771 to schedule your free estimate!
Fun Facts About Bridgeland TX
Upon completion, Bridgeland will feature 3,000 acres dedicated to lakes, trails, and parks. Which includes 900 acres of waterways and lakes, 60 miles of interconnecting trails, and more than 400 acres of parks and playgrounds!

It is a master-master-planned community located in Cypress TX.