If you're looking for cool Fulshear, TX Backyard Pool Designs, you should get in touch with Omega Pools LLC. We're a custom pool builder working in the Greater Houston Area. Our work focuses on innovative pool and spa construction and remodels. In every single one of our projects, we use the latest pool-building tools and technology. The way we work helps enhance and maximize a home's unique space.
We're proud and passionate about the work we do. Next time you're having some coffee, take some time to look through our portfolio and admire some of our past projects. Additionally, you can click on the testimonials page to learn how our clients feel about our work. Just a heads up, our clients love our work, and we know you will too.
Fulshear, TX Backyard Pool Designs | Residential Work
One of the major parts of our work involves working on residential projects. Our design and building experience help us bring visions to life. Especially in this extreme summer heat, we can help you and your family enjoy the day with a beautiful custom creation. Omega Pools LLC. is a great option if you want to put some fun in your life.
Texas brings some crazy heat, and we're not overstating that. So when those peak summer temperatures hit, stay cool in a custom-built pool chosen from our Fulshear, TX Backyard Pool Designs.
On a serious note, the temperatures rarely drop below 90 degrees here in Texas. Just think about the possibilities. You could have a shallow beach entrance for your children or even a water slide for older kids.
Get in touch at your earliest convenience for a consultation at no cost. When you choose us for your pool project, your backyard will become the place to be this summer. Furthermore, our clients love our innovative designs and beautiful landscapes.
Make Your Backyard Pool The Place To Be
A backyard pool is a perfect place for summer fun. If you want to take your pool to the next level, you need to make it a place where people want to hang out. Here are some ways to make your backyard pool the coolest spot for the summer. Much like parks and gardens, pools are extremely active during the summer months.
So if you want to make your pool the hottest spot in the neighborhood, do it your way. Whether you're looking for a pool remodeling project or you're making your first investment in a pool, you can count on us.
High-Tech Designs
Omega Pool's designs deliver the latest technology. Our service provides superior design, installation, and construction at reasonable prices. Technology plays a big role in pool design, and clients love it when we get creative in how we implement the technology in our Fulshear, TX Backyard Pool Designs.
There are many ways to implement the new technology, like rain descents, bubbling jets, slate tile decking, fire bowls, illuminating fiber optics, or stunning LED lights. Tech-inspired designs can make your backyard a great one. We're offering exotic water features to take your backyard experience to the next level.
Building Process Focused On You
When we take on a new client, we want to ensure we're building a pool they'll enjoy for many years. To do so, we work with the clients to determine what they are looking for and shape our work to fit their vision. The goal here is to bring your vision to life. If you get the pool you've always dreamed of, chances are you'll spend a great deal of time enjoying it, as opposed to spending a good amount of money on a pool you rarely use.
So don't be a stranger. Talk to us about your vision. We believe in our work and trust that we can get you the pool you want. Next time you're drinking some coffee, check out our website and some of our past work. By doing so, you'll get a good idea of the type of work we do. And if you ever have any questions, just give us a call. We're more than happy to take on your questions.
Since 2005, we have been able to help homeowners enhance their outdoor experience with next-generation pool designs.
Questions About Financing?
Getting a quality pool design is a great way to deal with this suffocating summer heat. If you have any questions about our financing options, get in touch with one of our customer service specialists. We understand that creating a backyard oasis is a significant investment. That's why we offer flexible options. We partner with two incredible lenders and can work with you to find a comprehensive option.
Fun Ways To Spend Time At The Pool
Owning a pool is always a fun experience, but swimming back and forth can get boring at some point or another. No worries, though; there are many ways you can enhance your pool experience. Moreover, you don't have to be a kid to enjoy these games; anyone can play.
Whether it's some cool ways to throw a pool party or spend quality time with family, pools are a great location to have a good time. Here are some popular games you can try out next time you're in your pool.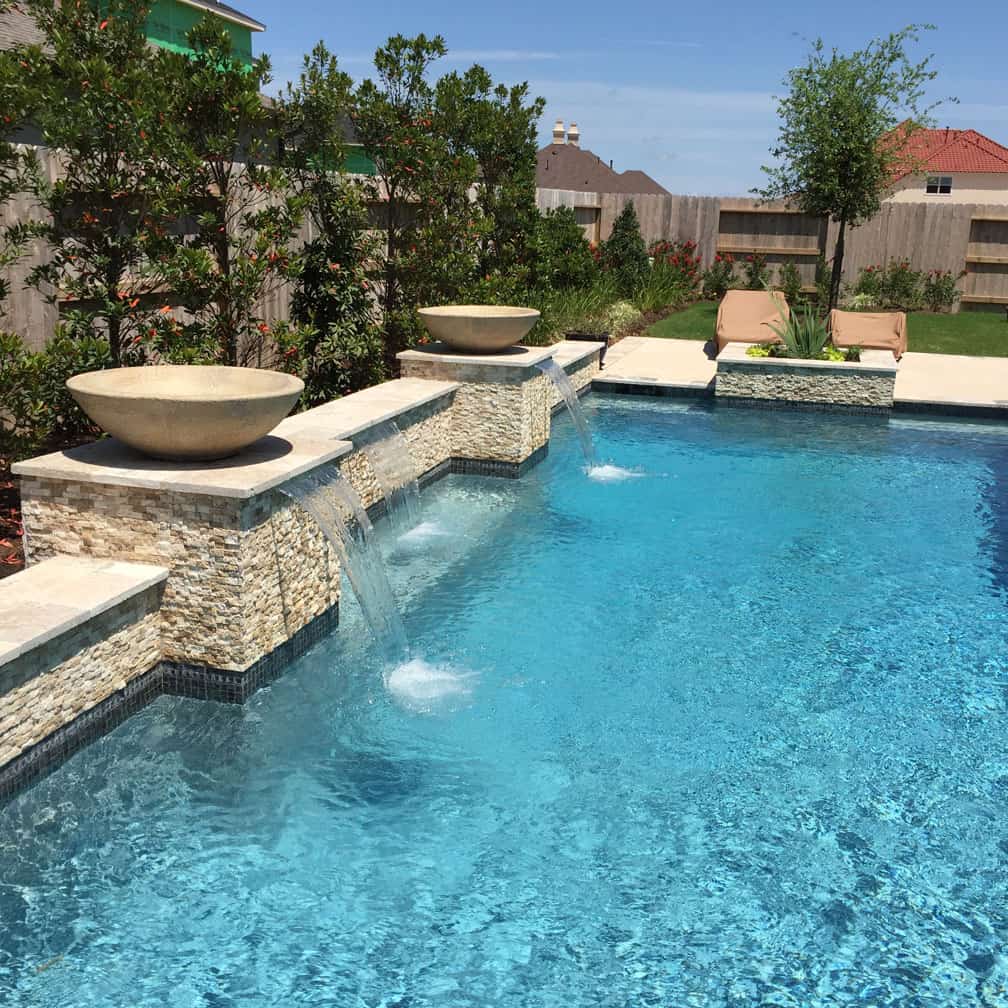 Pearl Diving
Pearl diving is a simple game that adds excitement to your pool time. There are kits available at stores that you can. These kits consist of 5 pearls and a blue pear.
First, throw the pearls in the water and have a group of people tries to find the blue one. The first person to find the blue one is victorious.
Marco Polo
Marco Polo is a classic pool party game, familiar to all ages. One person is "it" as Marco while the others try to stay away. The person playing Marco has to close their eyes and count down from a specific number.
While they count, the others scatter around. After being done counting, Marco yells "Marco" while the other yell back, "polo." The " it " person has to tag the others by following the sound of their voices.
Pool Volleyball
Volleyball is even more fun when played in a pool. All you have to do is set up a net designed for a swimming pool and divide players into teams. The rest is just like regular volleyball.
Create A Beautiful Backyard Oasis
Omega Pools LLC is here to help you build nice Fulshear, TX Backyard Pool Designs, get in touch and learn about the many options available.
Located on the NorthWest side of Fort Bend County
Incorporated in 1977
Categorized as primarily a farm and ranch community