Have you been searching for Pool Builders Near Me Fulshear Texas, but you do not know where to turn? Perhaps you are looking for pool builders in the Cypress area that can build an elegant and sophisticated pool. Maybe you are looking for a pool building company that can handle your custom pool and outdoor living space. Whatever the case may be, Omega Pools, LLC has got you covered.
It is no secret that many pool builders nowadays design pools without really designing what the customer is asking for. Often, they will not listen to the customer. Or they will have the customer choose options and features from a menu. Omega Pools, LLC takes a different approach to pool building. During our years in business, we build pools that are tailed to exactly what our customer wants and dreams of. Because of this, we have a 100% satisfaction rate with all our customers.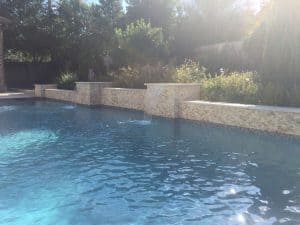 Omega Pools has the pool designing experts that design pools to enhance and utilize your backyard. They take in the full set of your backyard to design a pool and spa that fits naturally into the setting around it. Instead of competing with the home, they choose to have their pool design complete the home. As a result, the end result of an Omega Pool is a truly unique and beautiful poolscape that reflects your home and family. While providing hours of endless entertainment and enjoyment for you and our family.
Effective Pool Builders in Fulshear
Pools and spas can be as custom-designed as you would like. The professionals at Omega Pools, LLC are here to turn your dreams into reality. From free-form to vanishing edges, they have the ability to build a pool that you may not think possible. Did you know that Omega Pools also specializes in creating custom water features? Our rock waterfalls, boulder creations, grottos, and water features are something Omega Pools does with great pride. Whether you are looking or a traditional pool or a pool with all the bells and whistles. Omega Pools will build what you are looking for.
Are you looking to completely transform your outdoor living area? Perhaps you are looking for something more than just a pool and spa. If this is the case, Omega Pools can create an outdoor living area that will triform your backyard into your personal retreat. An outdoor kitchen can make entertaining outdoors a breeze. An outdoor fireplace or fire pit can provide ht perfect ambiance you are looking for. And an outdoor gazebo can give you the shade you are looking for to relax outdoors. Whatever you are looking for in your outdoor living space, Omega Pools has the experience to handle your project. They will work side by side with you ensuring that your pool and outdoor living space is the best it can possibly be.
Omega Standard is the Difference
Omega Pools, LLC is a pool builder in the Fulshear area that is known for building spectacular custom pools. They build pools all over the Houston area and build pools that fit in any lifestyle. All of their designers are highly trained and licensed. Ensuring that you are getting the best quality service possible, also known as the Omega Standard. Their professionals will be with you every step of the way. Ensuring that your questions or concerns never go unanswered. If you are considering a new pool for your backyard they are the expert that will make you pools dreams a reality.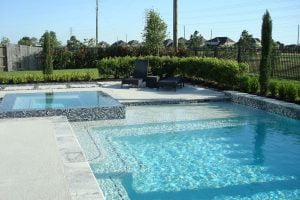 Their team of professionals will also provide you with a realistic 3-D design of what your backyard will look like. If you do not like the design, they will continue to work with you until you have chosen your dream design. Because of this, they offer free designs, free consultations, and free estimates to all their customers. As a result, this sets them apart from the competition. Once you have chosen the design that you want to move forward with, you will be able to pick the materials. You will be able to see sales of tile, plaster, stone and choose the ones that will work best for you. Omega Pools strives to make the pool building process as easy as possible for you.
Contact the Experts at Omega Pools, LLC
When you are looking for Pool Builders Near Me Fulshear Texas, Omega Pools is here to help you. If you are dreaming it the professionals at Omega Pools are ready to make it happen. Schedule a no-obligation in-home estimate with one of our pool builders today by dialing 281-330-6771. Or visit their website at https://omegacustompools.com/ to see a full list of services and products they have to offer you today. They are committed to exceeding your expectations. And providing you with an outdoor oasis where you can truly relax. See how the Omega Standard can transform your backyard!
Contact us today to learn how you can Finance your Custom Pool Build!
Fun Facts About Fulshear Texas
Agriculture has been a part of the Fulshear economy since the first settlers. One of the most important crops was pecans, which is famous in the state of Texas.

The Fulshear plantation house, one of the first 

Fulshear, TX homes

, was a grand 4-story mansion built in the 1850s. Eventually, the home fell into disrepair and during a decline in the 1930s the plantation house was torn down.

More than 2000 homes are located in the master plan community of Cross Creek Ranch within the Fulshear city limits.