Are you looking for Cross Creek Ranch backyard pools? Perhaps you are looking to build a custom pool and transform your backyard into a tropical getaway. Maybe you already have a pool that is showing some wear and tear and you would like to have this addressed. If you are ready to build your dream pool Omega Pools, LLC is ready to help you.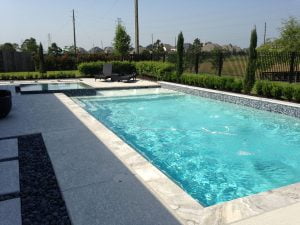 Omega Pools, LLC is known for designing and constructing the best custom pools in the greater Houston area. Are you in the market for a unique and innovative custom pool? Perhaps you have a design in mind that you need help constructing. The professionals at Omega Pools can turn your pool dreams into reality. Their design staff can take any idea you have and transform it into your pool paradise. When you work with the professionals at Omega Pools, there are no limits to your options when it comes to underground swimming pools. Incorporating the latest water technology and products, they will create your personal oasis.
Are you looking for a custom pool company that takes pride in the customer service they deliver? If so, the experts at Omega Pools have a strong dedication to providing the best customer service to all its' customers. The customer service they have given each and every client has helped Omega Pools continue to grow and develop. Because of this, over 95% of their clients came from existing customer referrals. Their portfolio may speak for itself, but so does their clientele.
Custom Pools Your Way
When you reach out to the professionals at Omega Pools, LLC, in Cross Creek Ranch, our backyard pool design staff will assist you in selecting your pool features. Whether you are looking for a traditional pool. Or a pool with all the trimming, they will work side by side with you. If you entertain frequently, maybe you are looking for a swim-up bar feature. Perhaps if you are focused on relaxation the serenity of water fountains would be a great idea. Whatever you are dreaming of the expert at Omega Pools can construct it.
Do you currently have a pool that is showing some wear and tear? If so, we have got great news for you. The professionals at Omega Pools have the knowledge and capability to improve the look, feel, and efficiency of your existing swimming pool. The team at Omega Pools can assist you with new redesign options, new water features, new materials, more energy savings, and so much more. They can design just about anything to give your old pool a brand new look. Are you looking to just replace the plaster? Or are you ready to add some new features? No matter how old your pool is, or what the current design it, Omega Pools can transform it. Interested? Let the professionals at Omega Pools create a 3D rendering of what your pool could look like. They offer free designs, free consultations, and free estimates. Give them a call by dialing 281-330-6771 to set-up your free consultation in your backyard.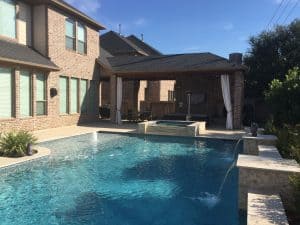 Custom Outdoor Structures Your Way
Did you know that the professions at Omega Pools, LLC design and build beautiful Cross Creek Ranch gazebos, outdoor kitchens, and living spaces? They have the experience to help you design the perfect space. Whether it is an outdoor kitchen, a custom fire pit, covered patio, pergola, or outdoor living room, they can help you. You can see by their portfolio online at https://omegacustompools.com/ that the end products are elegant and spectacular. The possibilities are truly endless. They specialize in making your pool and outdoor living space a perfect addition to your home. Meaning that they make sure the new addition compliments your home. Whether you are in need of a custom patio, kitchen, fireplace, Omega Pools will provide you with the excellent selection and service you are looking for.
Contact Omega Pools, LLC Today!
Omega Pools, LLC was founded by Bobby Firouz and Gustavo Curiel to redefine the standards in custom Cross Creek Ranch outdoor kitchens, structures, and pool building. They saw a need to deliver a new standard of excellency also known at the Omega Standard. Today Omega Pools has grown strong and is the fastest-growing custom pool builder. They strive to exceed every customer's expectations with the level of quality they provide. Their knowledgeable team will be with you every step of the way. Because of this, no question or concern you have will go unanswered.
When you are looking for the best custom pools, contact the professionals at Omega Pools, LLC. You can reach their friendly specialists by dialing 281-330-6771 to schedule your free consultation. Or visit their website https://omegacustompools.com/ to see a full list of services and products they have to offer you.
Contact us today to learn how you can Finance your Custom Pool Build!
Fun Facts About Cross Creek Ranch Texas
Cross Creek Ranch community features a water park and pool complex, state-of-the-art fitness center, sports complex, and outdoor amphitheater.

The development is also filled with parks, playgrounds, and open spaces for outdoor recreational activities.

Winding through the neighborhoods in Cross Creek Ranch are scenic lakes and trails that make it easy to explore the natural environment and appreciate the rolling hills and unique wildlife that surrounds this area.

Cross Creek Ranch also includes retail stores, schools, cafes, and restaurants that allow residents to be within walking distance to everything they need.