Have you been searching for Custom Pools Fulshear TX because you are looking to add a retreat in your backyard? Perhaps you are looking to build a custom pool so you have a place to relax. Maybe you are looking to install a custom pool because you are tired of having to go to the neighborhood pool. Whatever the reason may be, the professionals at Omega Pools, LLC can help you build your dream pool and outdoor living area.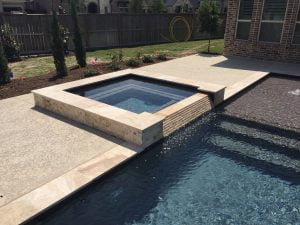 At Omega Pools, we have a reputation for creating innovative, spectacular, and unique swimming pools and outdoor living spaces. We are one of Houston's most trusted custom pool builders in the industry. Our designs have brought us the reputation of being one of the best custom pool designers. There truly is no project too challenging for us to handle. We create designs that are detailed and are based on the dreams that you have.
We do the work, so you can relax. But our professionals will still keep you involved in every step of the way. We are working with you to transform your pool dreams into reality. Because of this, our knowledgeable team will be with you every step of the way to answer any question or concern you may have. All of our professionals are highly trained and licensed to handle all aspects of your project.
Best Custom Pools
At Omega Pools, LLC, our team members are experts at offering customers exciting pool designs and outdoor living spaces. Customized to your specialization and backyard. All of our designs are carefully thought out to enhance and you utilize your home and yard. Trust our team and you will not be disappointed. Are you looking for a traditional pool? Perhaps you are looking for a pool with vanishing edges, waterfalls, and fountains. Whatever the case may be, we can build it for you. All of our projects are completely custom and designed to be absolutely perfect for you and your home.
At Omega Pools, LLC not only do we design spectacular pools. But we also build custom pools that are built to last. We use only the best equipment to ensure that your pool will run at a high standard throughout the years to come. We offer the Totally Hayward System which includes the NorthStar pool/spa combination system. This system is designed to create the ultimate pool experience for your backyard. When you purchase a Totally Hayward System, you will receive total warranty coverage so you can have worry-free pool enjoyment.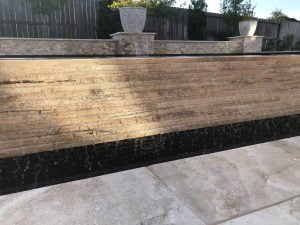 Are you worried about being able to keep your pool clean at all times? If so, here at Omega Pools we offer the next generation in pressure cleaning for your pool. The Viio Turbo is designed to clean your pool faster and more efficiently than any other robot cleaners on the market. So, you never have to worry about your pool falling behind in cleanliness. When you work with the best equipment to keep your pool running, you will see how easy maintaining a pool can be.
Best Outdoor Structures
Are you looking for not only a great pool and spa, but also enhancing your yard with an outdoor structure? Perhaps you are looking for an outdoor kitchen to make entertaining a breeze. Maybe you are looking for an outdoor living space to lounge and get some shade. At Omega Pools, we specialize in constructing the outdoor structures of your dreams. Whether you are looking for an outdoor kitchen or a patio where you can lounge. We have the experience to build you what you are wanting. We will also ensure that your outdoor structure is built to enhance your home and pool structure. All of our projects are constructed to the highest standards. Because of this, we are sure you will be happy with the work that our team puts forth designing your backyard oasis.
Whether this is your first time investing in a pool or your second time. We are committed to delivering what you are looking for. Because of this, our pool designers implement technology to draft 3D models of your design. Therefore, you are able to see exactly how your pool and outdoor structure will look. The 3D rendering will be able to let you see even the smallest details of your pools. If you are looking for the best backyard oasis, our professionals are ready to serve you today!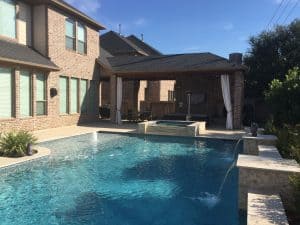 Contact Omega Pools, LLC Today!
At Omega Pools, LLC, we stand behind each and every pool we build to ensure that we exceed your expectations. We build quality pools that can be enjoyed for a lifetime. Because of this, we welcome the opportunity to help bring your dreams of a backyard oasis to life. Contact us today by dialing 281-330-6771 to get your project started today. We offer free consultations, free estimates, and free designs. We know that our professionals here at Omega Pools will make your pool dreams come true. You can also visit our website at https://omegacustompools.com/ to learn more about what makes us stand apart from the competition. We look forward to hearing from you and being able to transform our backyard into an oasis.
Contact us today to learn how you can Finance your Custom Pool Build!
Fun Facts About Fulshear TX
The city is named after Churchill Fulshear who was one of the original 300 families that received a land grant from Stephen F. Austin to settle in Texas.

Many of the first residents were immigrants from Germany, Czechoslovakia, Scotland, and Ireland who were making their way west but decided to stay in Fulshear.

The documentary The Heart of Texas was filmed partly in Fulshear.